St Mary's Church

The spire of St Mary's Church is visible all across the village. St Mary's plays a key part in the village with many groups and activities. St Mary's church hall is the key place for local events.The original Church of Our Blessed Ladye of Gorynge dated from about 1100 and was rebuilt with a tower in the 13th and 14th Centuries. David Lyons who owned Goring Hall paid for the church to be rebuilt in 1837.

Nikalaus Pevsner in the Sussex volume of his guide to Britsh Architecture says:

ST MARY. Rebuilt in 1837 by Decimus Burton, but as disappointingly limp as his other Gothic churches. Nobody would guess who the architect was. Inside, he kept the old arcades, retooled, and they and the thin plaster details make a pretty, uncomplicated match: late c12 with scalloped capitals and pointed single-chamfered arches.
WALL PAINTING, over the chancel arch. Christ in Glory, by Hans Feibusch, I954. A good deal better than the customary c20 English idea of church decoration: a swirling, baroque design well fitted to the wall space.
MONUMENTS. Bad brass, probably to the Coke family, probably c.1490. Man and wife, effigies 26in. high, – Susan Cook, undated. It looks c.1740, but she died in I707. Plain frame but a lively Cheere-ish bust, full of femininity. – Isabella Lyon 1836. Carved by Chantrey, 1841, but a terrible comedown; an offhand medallion in a Greek frame, homely face in funny hat. Yet, probably, it is the Chantrey which is the more true to life of the two.

One of the most striking sights in the Church is the Feibusch Mural high up on the chancel arch. This was designed in 1950, and finished after considerable controversy in 1954.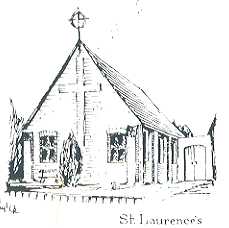 St Lawrence Church, Collingwood Road
Built in 1936 on land donated by the owners of Smugglers Farm, and rebuilt in 1966


St Richards Church, Sea Place
Originally in 1954 a dual purpose church and hall on the Maybridge estate in Collingwood Road. The present church alongside the hall was built in 1983.

English Martyrs
Roman Catholic Church

English Martyrs Roman Catholic Church is built next to the attractive and historic Jupps Barn which is now the church hall. But the highlight is the modern church with ceiling paintings inspired by Michelangelo's Sistine Chapel in Rome reproduced by artist Gary Bevans over five years. If you have seen the original, or especially if you have never done so, a visit here is a must.